Reporter eats her own snot!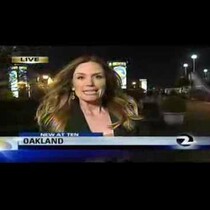 Posted February 26th, 2014 @ 8:03pm
KTVU hasn't had the best run in the past year (remember Wi Tu Lo? yeah, that was them)
This time, a windy live report on Miley Cyrus' conert in San Fransisco saw KTVU reporter Heather Holmes eatling a line of her own snot right at the end of the shot. Gross.

(Source: KTVU/iQMedia)
She was a good sport, though:
Note to self: Next time bring #Kleenex. pic.twitter.com/gKAuCXpnil

— Heather Holmes (@hholmesktvu) February 25, 2014

(Source: Twitter/@hholmesktvu)
More from Real Radio 104.1