House Majority Whip Steve Scalise Shot in Virginia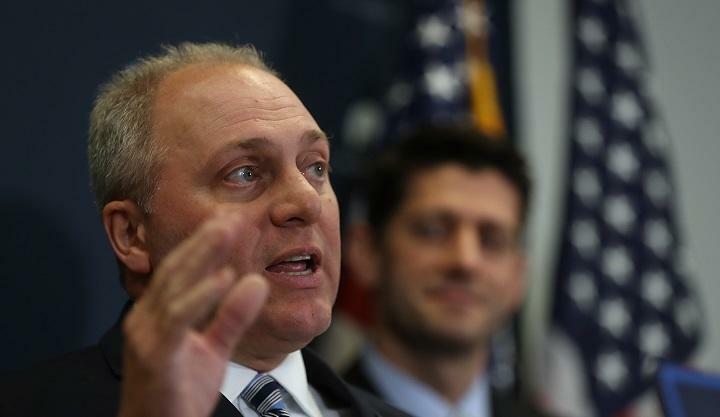 House Majority Whip Steve Scalise is among the injured after a gunman opened fire during an early morning baseball practice for Republican members of Congress. The shooter is believed to have fired dozens of shots at the baseball practice in Alexandria, Virginia. The shooter, while first reported to have been in custody, is in fact dead.
Two Capitol Police officers were also hit by gunfire and are reported to be in stable condition.
President Trump is offering thoughts and prayers after Scalise and two Capitol police officers were shot and injured. They are reported to be in stable condition. In a statement, Trump said he and Vice President Mike Pence are deeply saddened by the shooting and are monitoring developments closely. It happened at a practice for an annual charity baseball game between Republicans and Democrats.
Congressman Roger Williams has also been injured during the attack although his office says he was not shot. The Texas Republican was seen being carried away on a stretcher from a baseball field. He said that one of his aides was shot but his condition is unknown.
Kentucky Senator Rand Paul says if it weren't for two U.S. Capitol Police officers, the shooting in Alexandria, Virginia would've been a massacre. Paul was an eyewitness to this morning's shooting and described the weapon used by the shooter as a rifle, and says he first heard an isolated shot, followed by a rapid succession of five to ten shots. Paul says he saw Scalise pull himself through the dirt into the outfield after he was hit.
Rep. Ron DeSantis, who was at the practice spoke with Fox & Friends and said a man came up and asked if the members of congress on the field were republicans or democrats.
As I was getting into the car with one of my colleagues, Jeff Duncan, there was a guy who walked up to us and asked if it was Republicans or Democrats out there. And it was just a little odd and then he kind of walked toward the area where all this happened.
Representative Mo Brooks of Alabama tells CNN that the gunman was hiding behind the dugout before he started firing. He said he doesn't believe Scalise's injury is life-threatening, but added "I'm not a physician." Scalise is reported to be in stable condition.
A statement from Capitol Police notes deployment of a "robust police presence" outside the Capitol. The statement says all Capitol buildings are open and normal business is underway.
Photo: Getty Image

Monsters in the Morning
You wanted the best. You got the best! The Monsters in the Morning on REAL Radio 104.1!
Read more