At Least 20 Killed, 100+ Wounded at Route 91 Music Festival in Las Vegas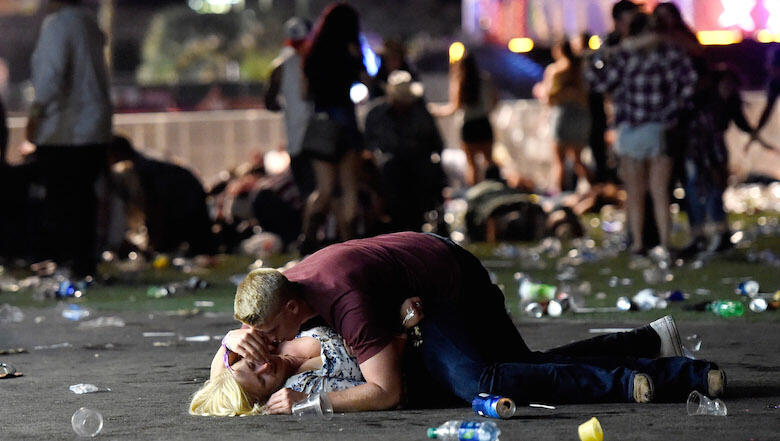 Las Vegas police say more than 20 people are dead and more than 100 others are wounded in a mass shooting. Authorities say the gunman has been identified as a local resident but they are not yet releasing his name. He was "taken down" on the 32nd floor of the Mandalay Bay hotel where he was shooting into a nearby crowd at the Route 91 Harvest Festival. Authorities are looking for an Asian woman said to be the suspect's roommate. She's being identified as Mari Lou Danley. In addition, authorities are looking for two vehicles, a Hyundai and a Chrysler Pacifica both registered to the suspect.
Country artist Jason Aldean is reportedly safe after gunshots went off while he was performing on stage at the country music festival. Aldean was reportedly singing the last song of his set. His team has confirmed that he is safe.
Facebook has activated its crisis response page for people in Las Vegas. People are urged to check in as "safe" via Facebook to let loved ones know they are alive. Anyone in the area of the Las Vegas strip will see the check-in button once they log into the app on their smartphones.
Some flights at Las Vegas' McCarran International Airport are being delayed following last night's mass shooting. Airport officials say several flights have been diverted to other airports as a precaution. Flights are expected to be delayed until Monday evening.
Police have killed a suspected sniper in an upper level of the Mandalay Bay Hotel but are still calling it at active investigation.

Monsters in the Morning
You wanted the best. You got the best! The Monsters in the Morning on REAL Radio 104.1!
Read more