Sia Outwits Paparazzi by Leaking Nude Photo: 'Everyday is Christmas'
Sia is getting into the Christmas spirit early by handing out presents with a "mature" rating.
The independent-minded Australian singer and songwriter apparently became the unwanted target of a voyeur who snapped her in the buff and tried selling the photos. So she took control of the situation: she shared one of the pictures with her millions of followers, for nothing.
Sia tweeted out a grainy nude picture with the caption, "Someone is apparently trying to sell naked photos of me to my fans. Save your money, here it is for free. Everyday is Christmas!"
See Sia's early "Christmas gift" below. For the "peach free" version, click here.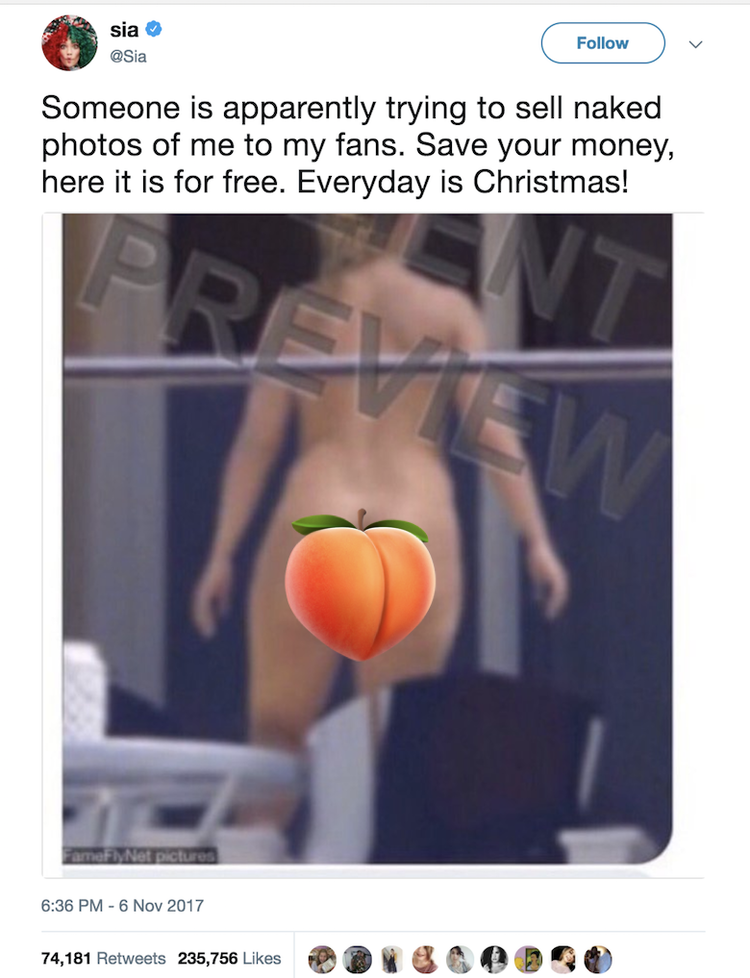 The subject's face is obscured in the photo -- nothing unusual for Sia -- so it's impossible to tell whether it's genuine or a clever marketing ploy for her forthcoming Christmas-themed album, Santa's Coming For Us, due out Nov. 17.
What we do know is that Sia doesn't traipse the well-beaten path. The award-winning artist and Monkey Puzzle-owner pulled off a spectacularly counter-intuitive maneuver by climbing to the top while shunning the spotlight. Along with Daft Punk, she's created an artform out of concealing her identify.
She'll support her new album release with a three-date stadium tour of Australasia, starting Nov. 30 at Melbourne's AAMI Park and featuring an all-female bill.
Photo: Getty Images

Monsters in the Morning
You wanted the best. You got the best! The Monsters in the Morning on REAL Radio 104.1!
Read more